Food Donor Spotlight: 7-Eleven
Interview conducted in 2017 by Yolanda Lin.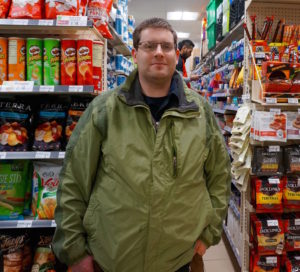 Michael Von Dengler saw 30 or more gallons of milk that were likely going to go to waste while local colleges were on winter break in 2010. With the encouragement of his assistant manager at the then Wilson Farms in Collegetown. Von Dengler searched for local organizations that accepted perishable food donations, and also found that the donors could receive a tax credit for donated foods with just a little bit of book keeping.
He worked with 2 or 3 different food pantries, but each one had specifics for what they could or could not accept. Looking to simplify the process, he heard about Friendship Donations Network, that was — and continues to be — willing to take food donations and make sure it gets to the right hands. The food donation plan worked well until 2015 when 7-Eleven bought the store. Its food donation policy was logistically complex, and the Collegetown store's program ended. Then, in 2015, under the new 7-Eleven franchise owner Ravi Meel, Von Dengler once again was able to orchestrate food donations with Meel's full approval and support.
Von Dengler regularly schedules at least three donation pick-ups each week. The logistics are simple: Call FDN when boxes of food are ready. FDN alerts a volunteer about the donation. Within a few hours, the volunteer picks up the food. Donations include nutritious food that's reaching its use-by date and consists of anything from boxes of sandwiches to gallons of milk. As for where the food goes: Joan Spielholz, an FDN volunteer, often picks up food from 7-Eleven and delivers it directly to the Rescue Mission, one of the food distributors in the FDN partnership. FDN was able to identify that the Rescue Mission has food needs that match the food availability from 7-Eleven, an observation made possible due to the network of contacts, both donor and distributor, who partner with FDN.
Von Dengler insists "It's a win-win" when stores like 7-Eleven donate food. And, he's right. The donations reduce food waste, trash removal expenses, and landfill use. They also earn tax credits for the donor and provide nourishing meals for local households facing food insecurity. The partnership between 7-Eleven and FDN has been beneficial to everyone involved, whether concerned with the bottom line, the health of the community, or both! It is thanks to Von Dengler's commitment to food donations throughout the years – through ownership changes and at times, small pauses or roadblocks – that FDN has a strong partnership at 7-Eleven in Collegetown.
Photo credits: Yolanda Lin.
Top photo: Mike Von Dengler calls FDN when 7-Eleven has excess food to donate.
Featured photo at right: FDN volunteer, Joni Spielholz, picks up donations from 7-Eleven each week.