Neighborhood Food Hubs collected 2,800 pounds of produce for food pantries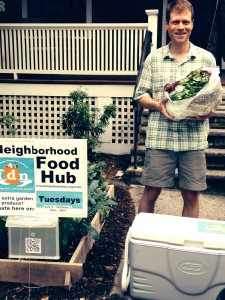 Neighborhood Food Hubs collected 2,800 pounds of homegrown produce for local food pantries.
ITHACA, NY – Area gardeners donated more than 2,800 pounds of vegetables to Friendship Donations Network during the 2014 season of Neighborhood Food Hubs, which ran from July 1 – October 1. Friendship Donations Network is grateful to the volunteers who made this project happen, and to the community members who donated their homegrown produce.
Friendship Donations Network, which was founded in 1988 by Sara Pines, rescues fresh nutritious food from area stores and farms that would otherwise be thrown away and redistributes it to neighbors in need. FDN's extensive network of volunteers picks up donations of mostly perishable excess and day-old food and delivers it to pantries and programs that serve more than 2,100 people weekly. FDN diverts over 500,000 lbs. of good food from the landfill each year.
The Neighborhood Food Hubs were designed to make it easy for people to donate extra garden produce, by dropping it off at any of the 11 hubs located throughout Tompkins County. The food was distributed through local food pantries.
Friendship Donations Network volunteers are available 7 days/week and arrangements for pick up or delivery of donations can be made by calling 216-9522. People are encouraged to connect with their local food pantries and make donations directly to pantries when possible. The Human Services Coalition of Tompkins County has a listing and schedule of the area pantries at: http://hsctc.org/food
More information about Neighborhood Food Hubs is available at: <friendshipdonations.org/hubs>.