Two benefit concerts on Friday, February 14
YOU ARE INVITED to a benefit concert for food justice featuring The Blind Spots, Friday Feb 14th.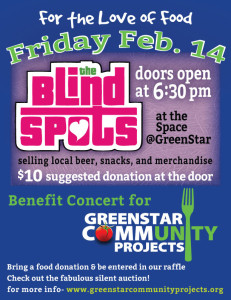 FOR THE LOVE OF FOOD
GreenStar Community Projects is hosting a benefit concert to raise money to promote healthy food access, education, and food systems in our community. The Blind Spots will be groovin for one of their few nights on the local scene this year in support of these food justice efforts.
Doors open at 6:30pm at the newly renovated The Space @ Greenstar with a suggested $10 donation for admission. We will have beer, wine and snacks at the concession table (tips go to support Loaves and Fishes of Tompkins County), and a silent auction full of wonderful gifts from our community.
PLEASE bring a food donation (perishable or non-perishable) for Friendship Donations Network to be entered into a raffle to win a gorgeous piece of art from Helena Cooper.
To learn more about the work of GSCP visit www.GreenStarCommunityProjects.org.
**** AND ****

Fundraising Concert for Loaves and Fishes of Tompkins County
Please join us for a night of music, love and support for our community's own Loaves & Fishes-feeding all, body and soul! Our line up is amazing! We will feature a few couples who's music is a part of their love and lives as well!
Friday, February 14th, 7:30 pm to 10 pm
First Unitarian Society of Ithaca at the corner of N. Aurora and E. Buffalo Streets, Ithaca
Suggested Donation- $10.00 Per Person
More info at: http://www.loaves.org/
SPONSORED BY THE SOCIAL JUSTICE COUNCIL OF THE FIRST UNITARIAN CHURCH OF ITHACA